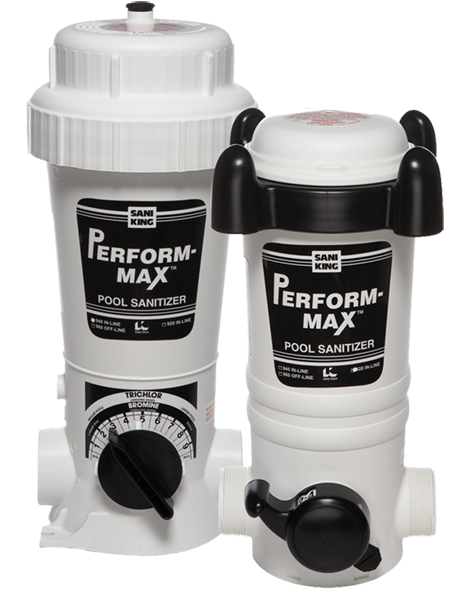 SANI-KING PERFORM-MAX
The Perform-Max chemical feeder offers the versatility of using either chlorine or bromine with a patented Performance Valve, that consistently dispenses just the right amount.
Benefits
Perform-Max feeders bring you the best in bulk chlorine or bromine feeding. Only Perform-Max has a patented performance valve that allows water to continuously erode only the bottom layer of chemical. The performance valve's wide range of settings gives you more control without over-chlorinating.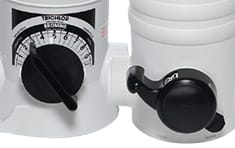 How it works
Perform-Max offers the flexibility of using either chlorine 1″ tablets or 3″ pucks or bromine tablets. The above ground model holds 7 pounds while the in ground model holds 10. Set the dial to maintain the industry standard 1-3 ppm of chlorine or bromine and refill when empty. For bromine users, bleed the air to create a soaking environment that works best with bromine.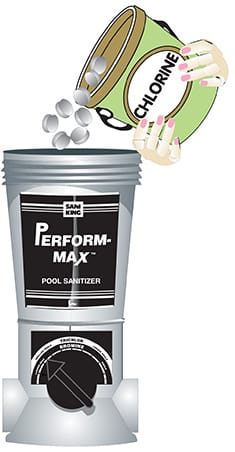 Comparison
Perform-Max's greater adjustability with 9 precise dial settings and an erosion design that wets only the bottom layer of chlorine along with it's durable craftsmanship make it one of the top chlorinators on the market.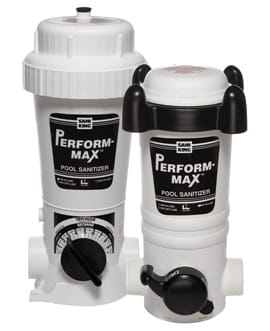 Why should I use the AQUA SMARTE Plus System?
Of the bulk chlorinators on the market this has the best adjustability, highest quality materials and a company that stands behind its products 100%.
Can I use chlorine or bromine in PERFORM-MAX??
Yes, but if using bromine you may want to bleed the air from the cap knob in order to fill the unit with water to soak the bromine as needed. NEVER MIX CHEMICALS!