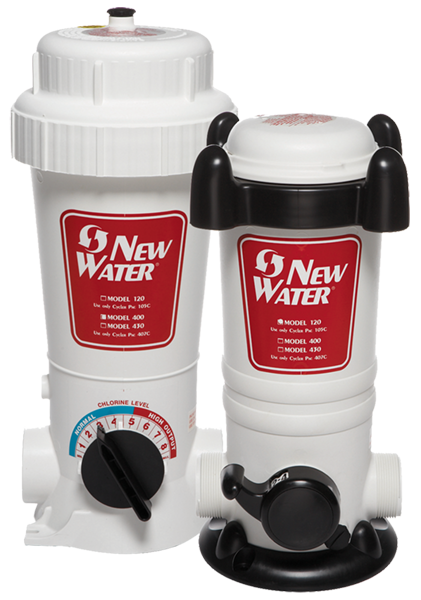 New Water®
The New Water System is on constant watch, dispensing low levels of chlorine to control bacteria and provide sanitizing protection for your pool. Once you've determined the correct setting for your pool just set it, then forget it!
Benefits
Enjoy precise sanitization with 9 settings of adjustability and never touch chlorine again! The New Water Pacs are lightweight, convenient to store and easy to use. They also last much longer than chlorine in typical feeders due to the erosion design that limits how much chlorine gets wet at one time. With models for in-ground or above-ground pools, anyone can experience New Water!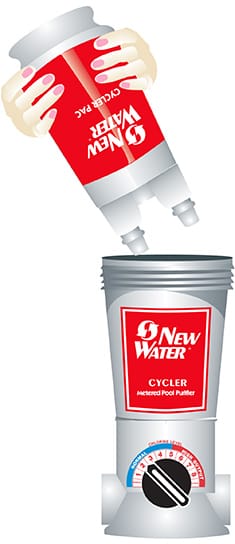 How it works
The New Water Cycler acts as the "water treatment center," controlling the flow of water through the system. The control dial precisely meters out just the right amount of sanitation for each pool. The prefilled chlorine pac fits into the cycler with no measuring, no lifting heavy buckets and no overpowering chlorine fumes.
Comparison
Because New Water offers more precise chlorine feeding, the 4 and 6 pound pacs last longer than chlorine pucks in a skimmer or floater. And with the chlorine contained in pacs, there's far less odor and no need to touch the tablets.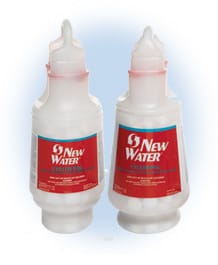 Why should I use New Water?
If you are tired of lugging chlorine buckets, yo-yo chlorine levels and having to touch and smell chlorine tablets, then New Water is for you.
How long will the Cycler Pac last?
2-4 weeks depending on pool size, pump size and run time, number of swimmers and average temperatures.