Our History:
We work on the impossible.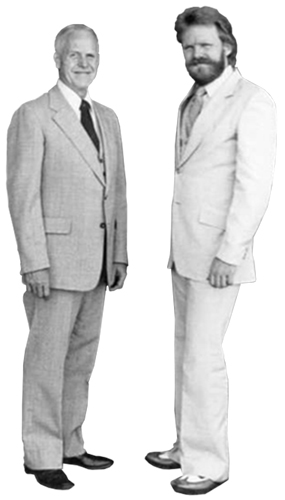 My father believed ideas come from God.

Joe King, Founder & CEO
Photo: Lloyd & Joe King, 1988
---
Science + Innovation at work.
We always go above and beyond to continuously improve, innovate, and bring the highest quality to every aspect of our products, services and relationships.
1979
1986
1988
1992
1996
1999
2001
2002
2003
2004
2005
2006
2008
2010
2011
2012
2013
2014
2015
2016
2019
2020
Invents Sani-King
Joe's father, Lloyd King, invents the Sani-King spa feeder that revolutionizes hot tub care by introducing the first erosion-style, automatic bromine delivery system for hot tubs.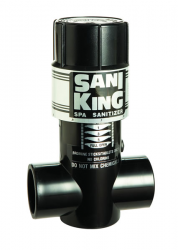 Sani-King Adjust-A-Flo
The next invention for hot tubs was an adjustable floating bromine dispenser called Adjust-A-Flo. SPA FROG® will replace this in a few years.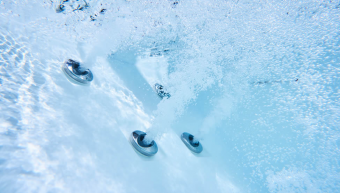 Perform-Max
Joe and Lloyd together introduce the Perform-Max; a unique erosion design pool feeder that precisely meters chlorine or bromine for swimming pools.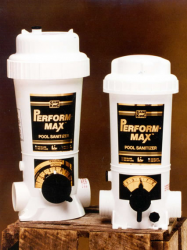 Joe purchases King Technology
Joe purchases the pool and spa division of King Technology from his father and starts out on his own with a handful of employees in a home office and one production and shipping facility.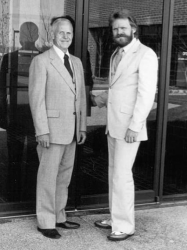 International selling
Joe begins selling internationally with the Perform-Max to great success in Europe, South America and Canada.
New Water®
The company introduces the New Water® line for swimming pools with pre-filled replaceable chlorine pacs that eliminate the annoyances of handling chlorine with even more precise feeding that makes chlorine last longer.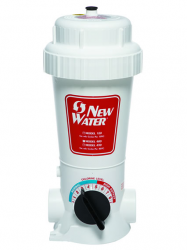 FROG®
King Technology introduces the FROG® Mineral System for swimming pools—it becomes an overnight hit by reducing chlorine levels to a low 0.5 ppm* and making water feel softer and look crystal clear with much less work.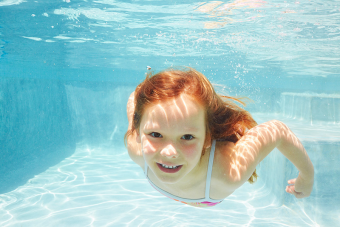 SPA FROG®
This unique mineral sanitizer is tailor-made for hot tubs; it quickly and easily fits inside a hot tub filter core.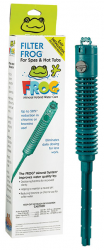 Instant FROG®
King Technology was on a roll finding new niches for mineral products. The next one was for existing in-ground pools with a mineral product that simply sits in a skimmer basket called Instant FROG®.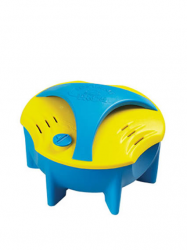 POOL FROG® XL PRO®
The POOL FROG® XL Pro® was designed for in-ground pools to provide extended pac life to the chlorine by using a 6 lb chlorine pac in one cycler and a mineral reservoir in the other cycler.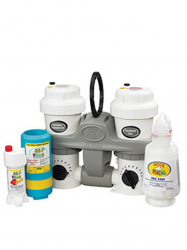 FROG BAM®
FROG BAM came onto the scene offering a unique 90-day algae preventive. Dispensed through the Pool FROG System, it's so powerful we offer an algae protection guarantee!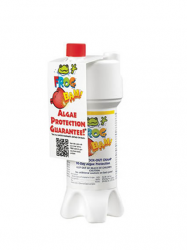 King Technology Turns 15
Joe celebrates 15 years of ownership of King Technology, Inc. King Technology now has four production facilities, a distribution warehouse and a home office to serve all of its' clients pool and hot tub water treatment needs.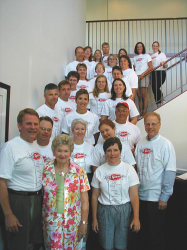 SPA FROG® Expands
The SPA FROG® Floating System uses adjustable mineral and bromine cartridges snapped into a reusable holder. The SPA FROG® In-Line System is integrated into the hot tub with easy loading of replacement mineral and bromine cartridges.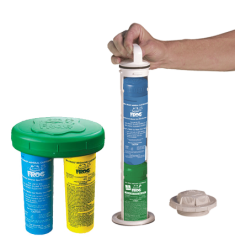 POOL FROG® EPA Registration
After years of testing, POOL FROG® receives EPA registration.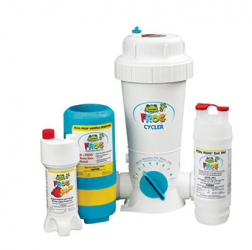 SPA FROG® Goes International
SPA FROG® expands to Europe with both the Floating and In-Line Systems selling in nine different countries. Also available in a Canadian version.
Minerals improved
The POOL FROG® Mineral Reservoir was improved with start-up water polishers. This added benefit gives the pool an extra boost of shine at start-up to kick off the season with crystal clear water.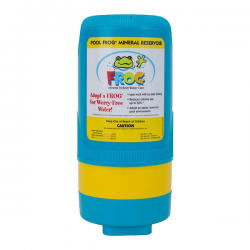 SPA FROG® EPA
SPA FROG® receives EPA registration.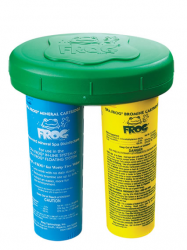 POOL FROG® 25k
The POOL FROG® Above-Ground gets a whole new look with easier to use features like the twist off cap and large handle dial, plus consumer friendly colors.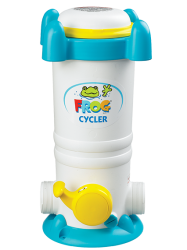 King Celebrates 20 Years
Joe celebrates 20 years of ownership of King Technology, Inc.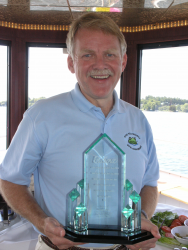 FROG® Turns 15
FROG® celebrates 15 years and thousands of happy customers using its unique mineral technology that makes water care easy.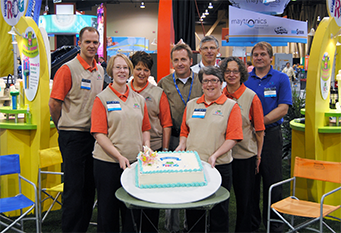 Test Strips
Introduces FROG® Test Strips to help consumers see the ideal range of 0.5 – 1.0 ppm for chlorine and 1.0 – 2.0 ppm for bromine. This helps FROG® users realize a 50% reduction in these chemicals.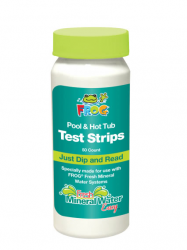 FROG® Jump Start®
FROG® Jump Start® is a convenient one-dose start-up shock with an effervescent action.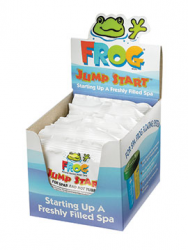 FROG® Leap®
FROG® adds a new mineral pool system to the brand line up – FROG® Leap®.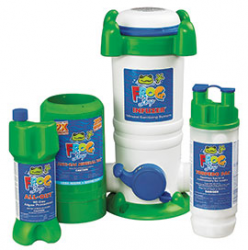 FROG® Flips
The FROG® brand now includes Flippin' FROG® – the perfect mineral and chlorine system for soft sided pools up to 5,000 gallons. This unique product floats in the pool sanitizing the water for weeks and flips over when empty.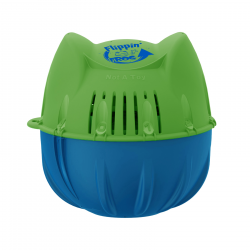 Fresh Mineral Water®
FROG® introduces Fresh Mineral Water Easy®. It's water that's cleaner, clearer and softer® than traditional chlorine or salt generator pools and hot tubs. It's easier too with everything prefilled so you never touch the chemicals.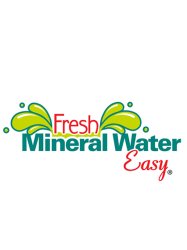 HEY! Cool Pool® Flip Plop®
A new brand of sanitizers introduced for the mass market where consumers are purchasing soft-sided pools.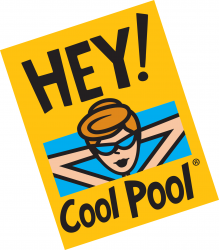 FROG® Leap® Twin
For larger pools, FROG Leap Twin delivers Cleaner, Clearer, Softer and Easier® water, consistently and easily. This system kills bacteria 2 ways—with sanitizing minerals and a very low level of chlorine. The result is Fresh Mineral Water® that is softer, shinier, and uses 50%* less chlorine than the chlorine of standard water treatments.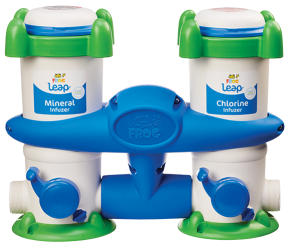 FROG® Flips Again
Flippin' FROG XL® is introduced for any type of pool 5,000 to 10,000 gallons.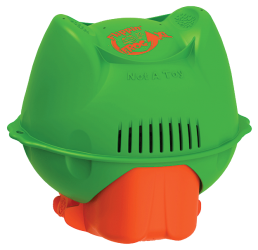 FROG @ease®
FROG® @ease® is a brand new way to sanitize hot tubs using FROG® minerals with SmartChlor® Technology – a unique chlorine that is self-regulating and reduces chlorine use up to 75%.*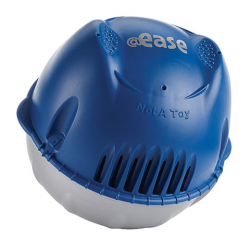 Oxi-King®
A new bromine system for industrial water applications such as cooling towers and process manufacturing. Oxi-King® brings a safer way to handle bromine in pre-filled pacs that are light weight and last longer than bulk chemical.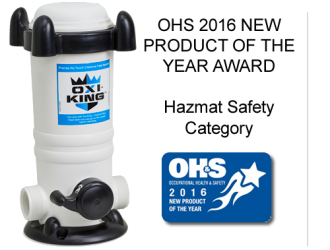 Awarded the 2019 Minnesota Family Business Award
King Technology was awarded the 2019 Minnesota Family Business Award from Twin Cities Business Magazine. CEO Joe King, his family, and the King Technology Executive Team were on hand to accept the award on Wednesday, November 20.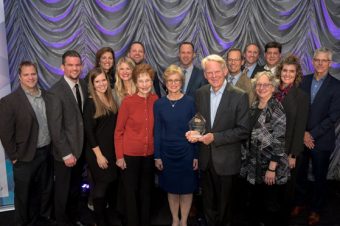 FROG Maintain™
FROG Maintain joined the FROG family. A one-dose shock, FROG Maintain makes hot tub maintenance easy.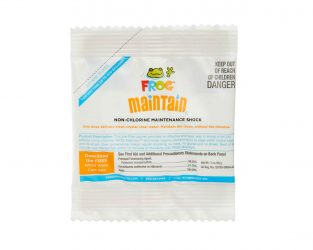 ---
---